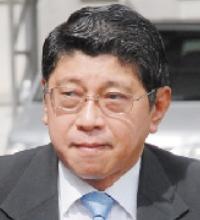 Deputy Prime Minister, leading academician of public law instrumental of shaping Thailand legal system
Place of Birth: Songkhla
Date of Birth: Sat Sep 15, 1951
Family Background:
Born to Mr. Boonsong and Mrs. Thavorn Krea-Ngam.
Education:
Phrakhanong Phithayalai, Bangkok
1972 LL.B (Hons.) Thammasat University
Barrister – at – Law (Thai)
1974 LL.M. University of California, Berkeley
1976 J.S.D. University of California, Berkeley
2001 LL.D. (Honoris Cansa) Chulalongkorn University
Certificate National Defense College
2008 Director Accreditation Program (DAP), Thailand Institute of Directors
Career:
1972 Lecturer Ramkhamhaeng University
Lecturer Thammasat University
Lecturer Chulalogkorn University
1986 Professor of Law Chulalongkorn University
1991 Deputy Secretary-General of The Cabinet
Senator (2 times)
1992-2002 Secretary-General of The Cabinet
2002 Deputy Prime Minister
2006 Member of the National Legislative Council
2014 Adviser to the National Council for Peace and Order
2014 Deputy Prime Minister
Marital Status:
Married to Mrs. Watcharaporn Krea-Ngam with a son, Mr. Witchaya Krea-Ngam.