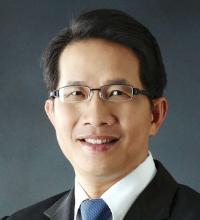 Chairman the Federation of Thai Industries, IT product business leader
Date of Birth: Fri Apr 25, 1958
Education:
1990 BA. School of Management Science, Sukhothai Thammathirat Open University
1997 MBA City University of Seattle, USA
2000 Master of Political Science, Chulalongkorn University
Career:
2014-16 Chairman Federation of Thai Industries
1988-present Chairman Synnex (Thailand) PCL
1993-present Vice Chairman T.K.S. Technologies PCL
2014-present Member National Legislative Assembly of Thailand
Marital Status:
Married with 4 children: Sutida, Supannasa, Chutipant and Saruda.