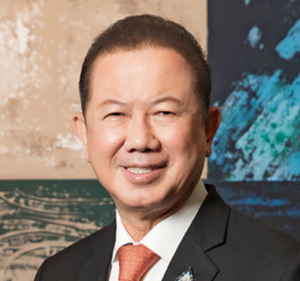 Chairman of the Thai Chamber
Plasticwares business tycoon
Place of Birth: Nakhon Phanom
Date of Birth: Mon Dec 15, 1947
Family Background:
Born to Mr. Iewyim Sae Ung and Mrs. Lakseng Sae Tang, a Chinese Thai family.
Education:
High school Winter Park High School, Florida, USA.
B.A. Business Administration, Oglethorpe, Atlanta, Georgia, USA
Career:
1972 Joined Srithai Superware (formerly, Srithai Superware Industry Limited Partnership) as factory manager
Took over Srithai Superware after the Tom Yum Kung Crisis
Chairman and president of Srithai Superware Public Company Limited, one of the world's largest manufacturers of melamine tableware.
Executive Chairman of SriThai (Vietnam), Beijing Huathai Replica of Porcelain Products and Srithai (Inida)
Honors:
2021-present Chairman of the Thai Chamber of Commerce (TCC)
Marital Status:
Married to Mrs. Chantra (deceased) with 2 children, Mr. Karan and Ms. Piyaporn. Re-married to Khun Ying Nathika with 2 daughters, Ms. Nithinan and Ms. Chamaiporn.