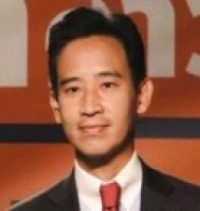 Prime Minister candidate of Move Forward (ก้าวไกล), the top political party in 2023 election
Proponent of rule-based international order
Place of Birth: Bangkok
Date of Birth: Fri Sep 05, 1980
Family Background:
Born to Mr. Pongsak Limjaroenrat (former adviser to the Minister of Agriculture and Cooperatives) and Mrs. Linda Limjaroenrat.
Education:
Primary school: Bangkok Christian College
Secondary school: Hamilton, New Zealand
2002 BA Finance with first-class honors, Faculty of Commerce and Accountancy, Thammasat University
2011 MA Public Policy, John F. Kennedy School of Government of Harvard University and MA Business Administration, Sloan School of Management of Massachusetts Institute of Technology
Career:
Managing director of CEO Agrifood Co., Ltd.

2017-18 Director of Grab Thailand
2019 Joined as a member of Future Forward Party (พรรคอนาคตใหม่)
2019 Member of the Parliament from Bangkok
2020 Party Leader of Move Forward Party (พรรคก้าวไกล)
2023 Candidate for Prime Minister of Move Forward Party in the 2023 general election
Marital Status:
2019 Divorced Ms. Chutima Teepanart. Became Single dad of the daughter, Pipim.